Here at Team Password Manager, we're always innovating and pushing the limits of new technology so that we can make it easier and easier for customers of all types to manage their passwords in a variety of ways.
Web based
One of the ways Team Password Manager makes life better is by being web-based. This allows our users to access the application from a browser on any computer, anywhere there is an Internet connection.
This comes in really handy for technicians who are out in the field performing IT duties, for example. No one wants to have to call headquarters for a lost password and jump through hoops just to get it. With access to Team Password manager anywhere you are, that problem will never come up again.
Responsive
Team Password Manager can be used from smartphones with small screen resolutions (IPhone, Android devices, and so on). Here you can see two screenshots from an IPhone 4:
List of passwords: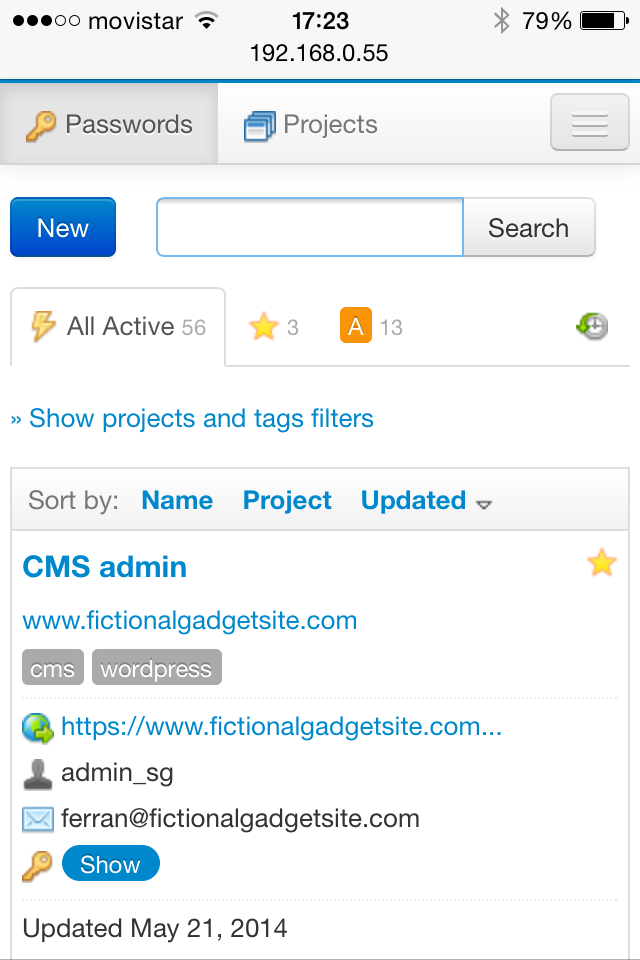 Password view: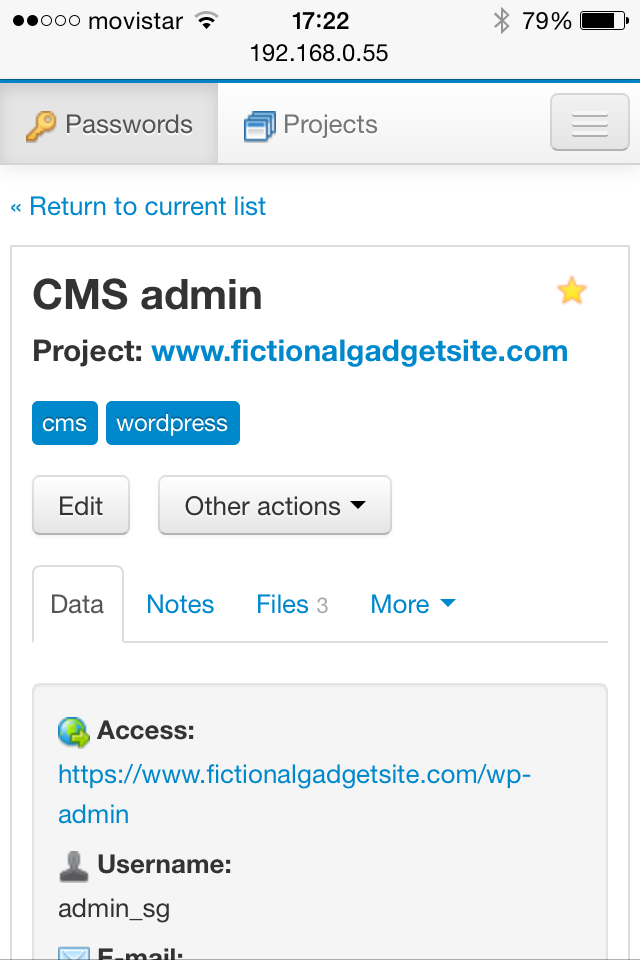 Self hosted (on-premises) software
Another way we use technology to the benefit of our customers is by making sure Team Password Manager is self hosted – it can be installed on the server of your choice. This means data is directly controlled by you, not us. Because this application is not cloud hosted, you can be sure it's not being shared with anybody unless you want them to see it.
PHP/MySQL: widespread technology
Also, the fact that we use PHP/Apache/MySQL technology means that we are affordable and available for every single operating system and hosting company. Installing Team Password Manager is a simple process and has been tested in lots of different servers.
Read more:
API (Application Programming Interface)
Team Password Manager includes a RESTful API (Application Programming Interface) that allows other applications to use the resources of the software. Great for automation!
Take a look at the API Docs.
Docker images
When we release each version of Team Password Manager we also release a Docker image with it (beginning with version 7.109.212). Our Docker images include support for ldaps, https and can be upgraded easily. We also provide documentation to understand and use them, as well as the source code of the images so that you can customize them to your needs.
Read more about it: Docker for Team Password Manager
Vagrant / VirtualBox installer
We've built an installer based on Vagrant that quickly and automatically installs a VirtualBox virtual machine with all the components required to run Team Password Manager.
Read more about it: TPM-Vagrant for VirtualBox
Browser Extensions
We've developed a browser extension to connect to your installation of Team Password Manager to easily fill in login forms and save passwords. The browser extension is available for Google Chrome, Mozilla Firefox and Microsoft Edge.
Learn more: Browser Extension for Team Password Manager
Mobile Apps
Currently, Team Password Manager has a Mobile App for Android Smartphones.
Learn more: Team Password Manager Mobile App for Android
Try Team Password Manager now !