Ferran Barba, founder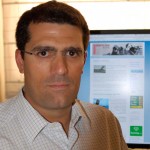 Ferran founded and runs Team Password Manager. He has a degree in computer science and more than 30 years of experience writing software for various platforms and used by many companies.
Ferran lives in Matadepera (near Barcelona, Catalonia, Spain).
History of Team Password Manager
Team Password Manager was born out of necessity. We needed a web application to store and share password data about the projects we were working on (with clients, partners and other consultants), but we were not happy with the solutions the market offered. So we decided to build it. After using our own app for a while we thought it might be of use to other people and we decided to make it a product and sell it.
Team Password Manager was released to the general public in June 2011, after being used in private betas for about 9 months. It was then called WebmasterMGR. In August 2011 I decided to change its name to Team Password Manager because it is more accurate on what it does: password management for teams.
Team Password Manager has a Free Version limited to 2 users and 5 projects. It's not time limited and has all the functionality of the paid version, so you can use it for real. You'll only need to buy a license if you need more than 2 users or 5 projects.
Please feel free to Contact us if you have any questions or suggestions.