Hi!
Today we're releasing a new version of Team Password Manager, v. 7.118.217, with the following features:
● Archived Passwords: the same concept that is used with archived projects, but applied to passwords. Archived passwords cannot be modified. They're normally used for passwords that are no longer in use but that you don't want to delete. We've also created a new document that describes it: Archived Passwords and Projects.
● Last visited page: with this new version, when you sign in, you're taken to the latest visited page. For example, the latest password, project, etc. But if before signing in you request a specific page, like for example a bookmarked password, you'll be taken to it.
● Changes in security screens: we've made the following changes in the security screens of passwords and projects:
We've rearranged the screens in tabs, this way the screen is not too with all the fields and the help is better presented.
You can set permissions for users and groups in bulk by selecting some (or all of them). Here's how this looks:
If a group had a lot of users, you couldn't see all of them if you hovered over the "members" link and the members popover opened up. Now this popover is opened by clicking on the "members" link (instead of hovering over it) and the members list is scrollable. This way you'll be able to see all the users by scrolling down if there are many:
● We've added the sender email and name in email settings, as some email servers require it.
● Rearrange password screen action buttons: with the new "Archive" button in passwords, there was not enough space for buttons on some screens. So now a password looks like this: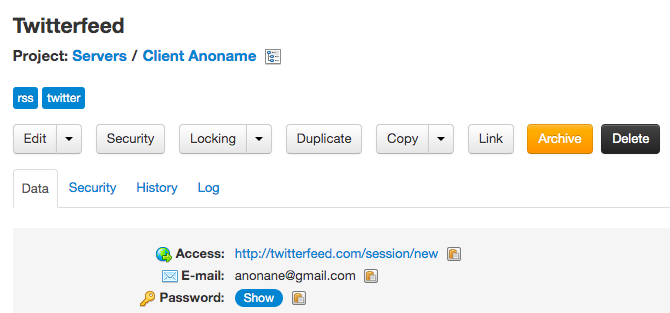 ● PHP 7.4 support: now Team Password Manager can be installed in systems that use PHP 7.4. Please note, though, that XAMPP 7.4.8 has some issues with the Ioncube Loader and you can't use it.
● Optimizations: we've done many optimizations in this version, but two stand out: 1) the log page is now much quicker and also the memory exhausted error doesn't happen any more, and 2) project creation was slow with systems with lots of users, now it's much quicker.
A couple of smaller things and bugs have also made it to this release, please check the v. 7.118.217 change log to review all the changes in this version.
In the upcoming days we'll be updating the language files for this new version (v.10), for languages that are not "en".
As always, we'd like to thank everyone who has contributed by suggesting new features or reporting bugs.