A glimpse of Team Password Manager
Main screen
---
This is the main screen of Team Password Manager. Each user sees different passwords depending on the projects he/she has access to.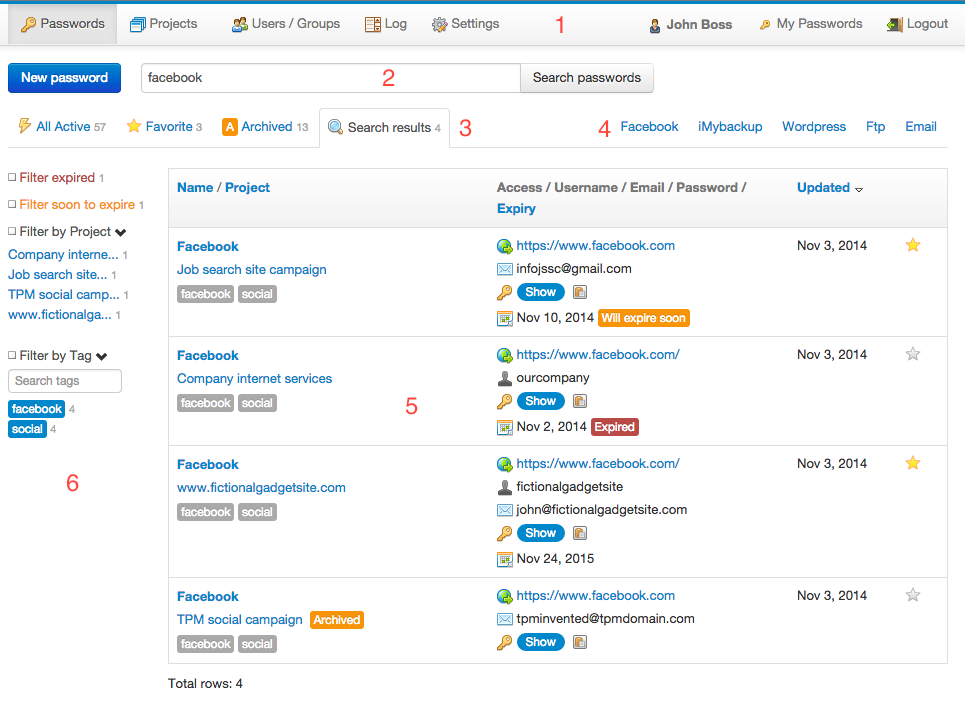 1) Administrative menu on top, with special options for admins (Users/Groups, Log and Settings).
2) Search passwords.
3) Tabs on the left to quickly access different groups of passwords: All Active, Favorites, Archived and Search results.
4) Tabs on the right (up to 5) for the last accessed passwords.
5) Main list of passwords.
6) Filter passwords by project.
7) Filter passwords by tag.
Download and try Team Password Manager for real:
Or continue the tour ...
Adding a password is a breeze
---
Just click on New Password, select the project and enter a few fields, that's all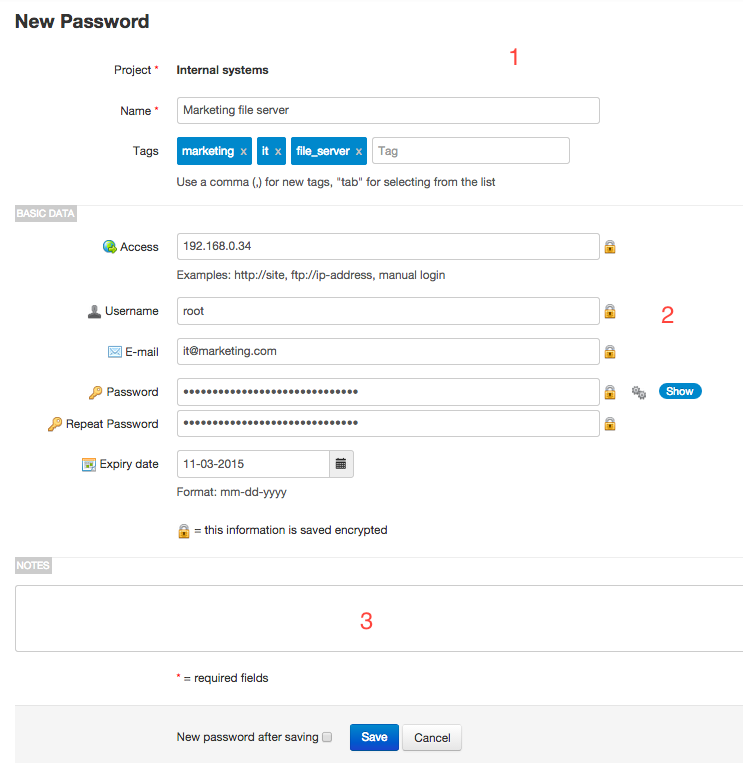 This screen is also used for editing a password.
1) List of projects the user has access to. The last used project is selected by default.
2) Team Password Manager keeps only the essential information. The "Access Information", "Username", "E-mail" and "Password" fields are saved encrypted in the database, using AES-256.
3) Use the integrated strong password generator to generate a strong, random password and insert it in the password field.
All the information of a password ...
---
... is available on this screen, the password view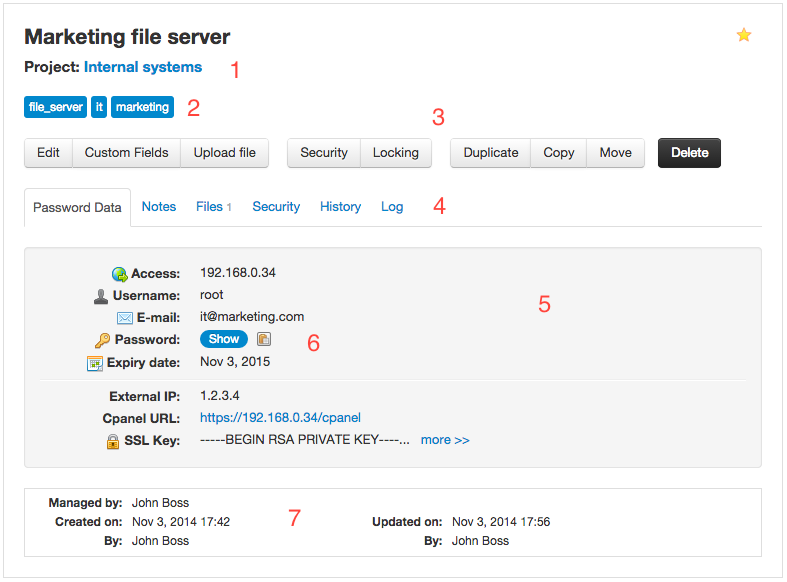 1) Project (with a link for quick access).
2) Tags for classification.
3) Tabs to group data: main data, notes, who can access this password (security), and what has happened to this password (log).
4) Main data: access information, username and password. If the access information is http/https, you can click on it for quick access. A password is never shown by default. Click on "Show" to view it.
5) Click on the clipboard icon to copy the password to the clipboard without having to show it.
6) Who created the password and last updated it, with the date and time.
Keeping passwords organized: project view
---
All passwords belong to a project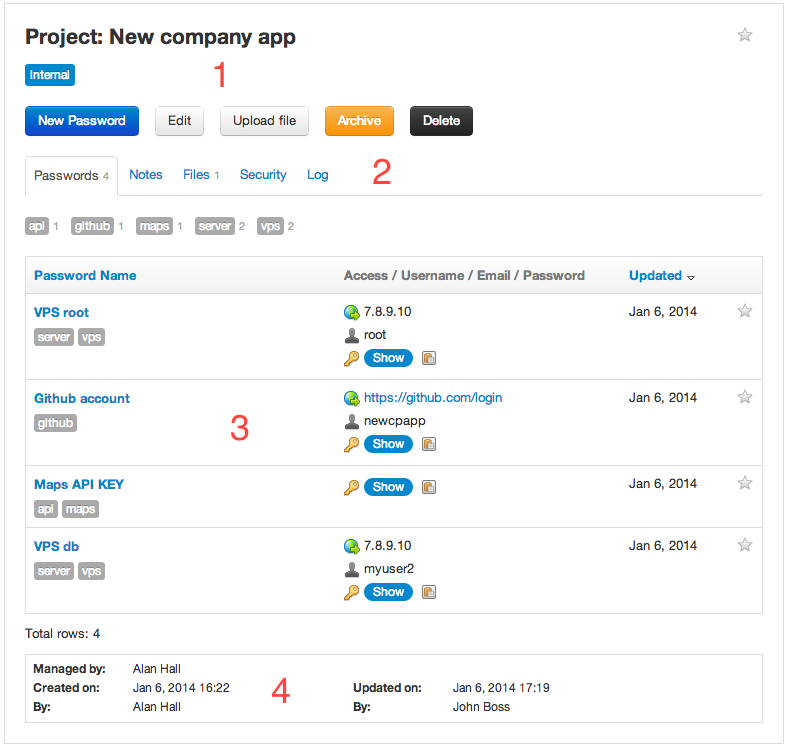 1) Project name and tags.
2) Tabs to group data: passwords of the project, notes, who can access this project (security), and what has happened to this project (log).
3) List of passwords of the project.
4) Who manages the project and who created it and last updated it, with the date and time.
Simple user management
---
Team Password Manager uses a very simple user model: users belong to one of these roles: admin, project manager, normal user or read only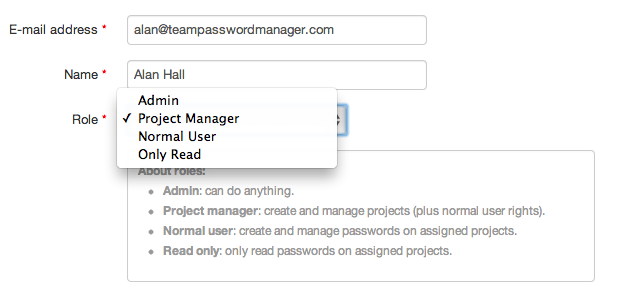 1) Admin users can do anything inside Team Password Manager.
2) Project manager users can create projects and assign users to them, plus they have the normal user rights.
3) Normal users can only create passwords inside the projects they have given access to.
3) Read only users can only view the passwords of the projects they have given access to.
Groups
---
Group users to later assign them to a project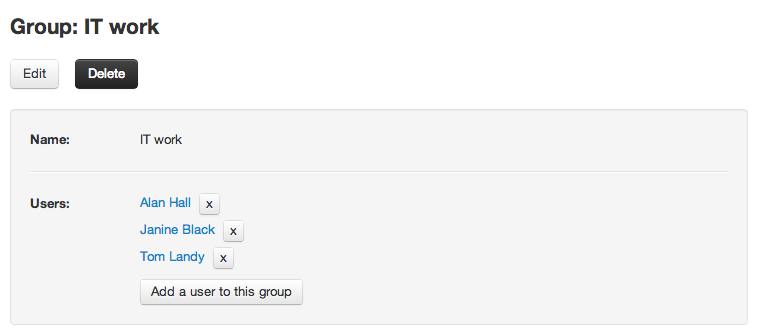 Simple password security model
---
Access to a password is managed through its project. If a user or a group he/she belongs to is assigned to a project, he/she will be able to see all the passwords from the project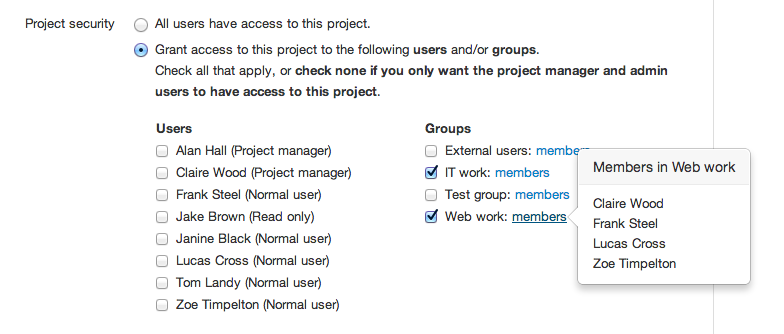 Logging
---
Every action is recorded into a central log that can be queried by different fields.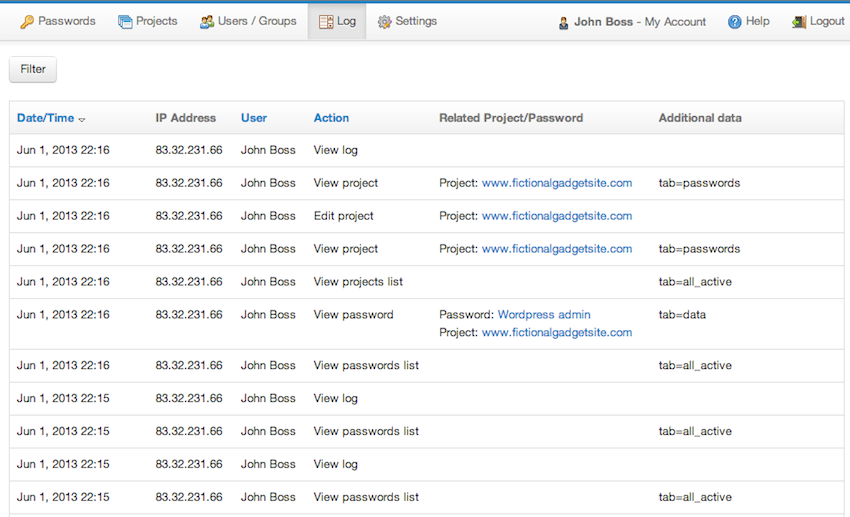 In addition to the central log shown above (that only admins can view), there's also a log tab in each password, project or user.
Two-Factor Authentication
---
Fo more security, every user in Team Password Manager can enable two-factor authentication with Google Authenticator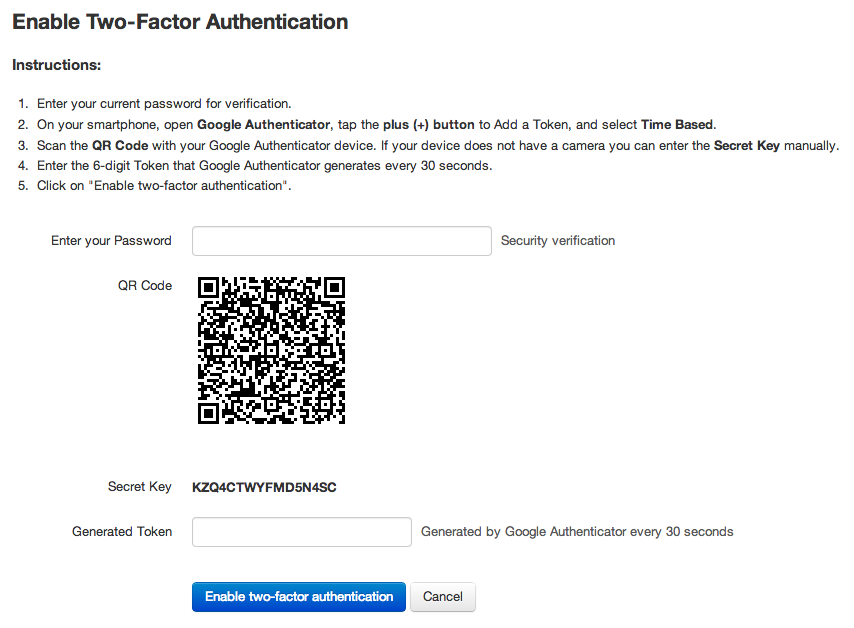 Don't just look at the screenshots. Try Team Password Manager now!