Today we're releasing a new version with many new features. The most important ones are:
Timeout and auto-logout
You can now set how long an inactive session lasts. The setting is global for all the users and if Javascript is active it will kick the user out automatically.
Tags search
Tags can be searched when a tag list appears (in passwords and projects):

This feature is only available if Javascript is active.
Grant access to passwords directly
With this release it's possible to grant access to a password to a user or group that doesn't have access to the password's project. This is a feature that lots of users have demanded.
You can do this with a new button on the password screen called "Edit security". Clicking this button the "Edit password security" screen is shown: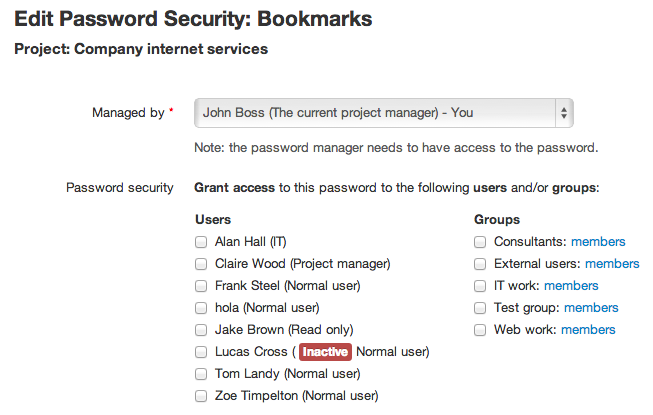 In this screen you can mark those users or groups that you want that they have access to the password. You can also change the password manager (originally the password creator).
Version checker
Team Password Manager now has a system to check if your current installation runs the latest version of the software. The version is automatically checked against our website whenever an admin user signs in and a little message appears on the right hand side of the footer if the version is not current. Of course this can be disabled and the version checked manually.
New role: IT
We've created this role for system administrators that need to maintain an installation of Team Password Manager. A user with IT role is like a project manager (can create projects) with access to users, log and settings. The differences with a user that has an admin role are:
IT users don't have access to all the passwords, only to those that they have been granted access to.
IT users cannot create or manage admin users. Only admin users can create other admin users or manage them.
Import/export is limited to the passwords or projects that the IT user has access to.
This new role is specially important for large organizations where there are some sensitve passwords that only admins must have access to, but where those admins are not in charge of maintaning the software (creating users, setting options, and so on).
Personal passwords
2.18.35 introduces the personal passwords list. This new feature allows each user (except those with a "Read only" rule) to have a list of passwords that only she has access to. Even admins can't see the personal passwords of the other users. Even more, each user has her own encryption key to avoid database tampering.

Personal passwords don't have all the features of normal passwords. They don't have projects, files or security (only a user can access her personal passwords), but they do have tags for filtering.

Users can access their personal passwords list by clicking on the "My account" option from the main menu and then the "My Passwords" tab.


We hope you find these new features useful. There are also some minor features, read them on the Change log.